Valerie Stansberry is the founder/owner of Sonder, and she provides psychotherapy. She is a Licensed Professional Counselor and a Certified Rehabilitation Counselor offering individual, couples, and family therapy. Valerie obtained a Master's Degree in Rehabilitation Counseling in 2008 and had been working in the field of counseling in various capacities ever since. From her work with veterans to individuals with disabilities, she has worked with a variety of different populations. Her clinical interests include the treatment of general psychiatric conditions that include anxiety and depressive disorders but also has specialized interest and experience with counseling individuals with eating disorders, trauma, and chronic illnesses. Valerie is an interactive, solution-focused therapist. Her goal in therapy is to provide a safe place to express emotions without fear of being judged. Her therapeutic approach is to provide supportive and practical feedback to help clients effectively address personal life challenges. Valerie's theoretical orientation is in Cognitive Behavioral Therapy, Person-Centered, Internal Family Systems, and Adlerian. She also integrates complementary methodologies and techniques to offer a personalized approach tailored to each client. With compassion and empathy, she works with each individual to help them build on their strengths and attain the personal growth they hope to accomplish in therapy.
Valerie's personal interests include being active in nature. Whether it's camping, taking her dog for a walk, or driving her Jeep off-road, Valerie enjoys the simplicities and thrills of life. She enjoys spending time laughing with her husband and daughter, spending time on her parent's farm, and visiting with friends. She also spends her past time creating art through various mediums (e.g., pottery, oil painting, drawing, etc.). If you ask her why she decided to go into counseling, she will tell you, "I've learned a lot of lessons in life…about compassion, adversity, loss, hardship, and what the human condition is capable of accomplishing. Having the knowledge, training, and education allows me to have the best job in the world...giving back and helping others."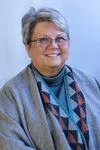 Terry Chapman is a Licensed Independent Clinical Social Worker specializing in treating depression, anxiety and trauma related issues in teens and adults. She takes a collaborative approach to therapy, believing that you are the expert of your life. Her philosophy is that healing and change only occur when a client's own strengths and skills are identified and utilized in treatment planning and application. Her goal is to assist you in finding greater harmony and balance in your life with methods that mesh with your own belief system. She is also passionate about helping individuals make peace with their emotions. She believes, "Emotions are not our enemy, even though they may feel that way at times. They can be wise guides who provide greater clarity when we work with them rather than fight against them.
Ali Nicholson is the Medical Receptionist for Sonder. She has over six years of experience in the medical field, and you will come to find out that she is personable and adept to provide quality care for our clients. If you ask Ali what she likes best about her job she will say, "I love the atmosphere, the way the staff all work together, and how the boss takes everyones opinions into account when making a decision. I truly feel appreciated every day."
Ali is a native of Morgantown and enjoys spending time with her husband and two daughters. When Ali is not working, she finds happiness in hunting, fishing, camping, and watching her daughters play lacrosse.